Spring break on a budget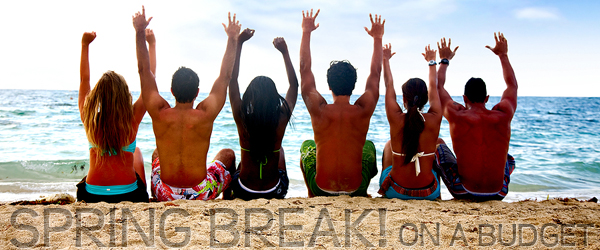 As soon as you stumble back from winter holidays, spring break is all you look forward to. You think about saving money so you can afford to go to Florida or South Padre, but you know you'll probably blow most of it on beer. I've been there and what I discovered is that you can have a great spring break with almost no money.
Go somewhere close
Instead of flying or driving somewhere far, decide on somewhere close. If you live near a big city, there are plenty of tourist attractions you have probably never seen. Spend your week as a tourist in your own town. If you are having trouble finding things to do, ask your city's visitor bureau for a list of attractions. Try hitting all of the bars in one day, it's much harder than you'd think.
Find student discounts
Student discounts are abundant during spring break, especially in locations that get a heavy influx of college students. When deciding on a place, call around and ask what kind of discounts they offer.
Get the best price
Groupon and Living Social have been featuring a high number of vacation getaway packages for 50-75% off. If you missed a great deal, you can always check Lifesta for daily deals that have already passed. Also compare travel sites if you need a flight, hotel and/or rental car.
Alternative sleeping arrangements
Housing costs are usually the highest expense when planning a vacation. Even low-rated motels can charge over $100 per night in popular spring break locales so find a cheaper alternative. If you're going to the beach, you can usually camp in a tent or you car for a small fee or even free. State parks also offer cheap or free camping, whether it's in a tent, your car or a big RV. Speaking of RV, ask your grandparents if you can borrow theirs – maybe they'll trust you enough to let you take it.
Load up on restaurant coupons
Scour the web for coupons and gift certificates. Restaurant.com offers great promotions all the time to get a $25 gift certificate for $2 instead of the normal $10. Stock up on these and you can still eat out and drink for cheap.