Questia – online academic library

Following up my post about research techniques, I would like to mention a great resource I've found, Questia. It's an online academic library that contains over 67,000 digital books and 1.5 million articles, all available in full-text. They also have over 5,000 free books and an encyclopedia.
If your school doesn't have an online database, which some of them don't, but you still need access to academic sources for research, websites like Questia can help you. It isn't free, but they do offer free trials, which is something I definitely would take advantage of. They have yearly, quarterly and monthly subscriptions, which might be helpful if you have only one paper to write, but for most college students, it's not much of an option. I would suggest they use advertising to make more money so they can lower the subscription prices.
My favorite thing about Questia is the layout. My school's library does offer an academic database, but the layout for it is very confusing. Questia's organization is very simple and easy to use.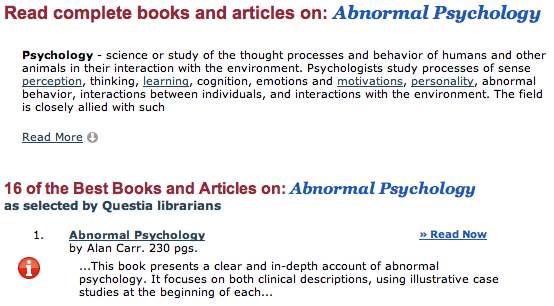 Another thing that's great about Questia is the search feature. The relevance of articles in search results matches very well to what I'm actually looking for. My school's database is so large that I have to sift through hundreds of irrelevant articles to finally get what I'm looking for. They have very nice categorical structure so it's really easy to find exactly what you're looking for.