How Google Docs can save your life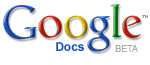 In Comp I we're currently writing a research paper. (Mine is over the PATRIOT Act and how it violates our civil rights – go Libertarians!) A girl in my group, who is not a very strong writer, recently made some changes to her draft and later found she she had deleted a large chunk of her paper. Because she had been using Word, she was essentially screwed. So I told her, use Google Docs and this won't ever happen again.
I'm not sure how many of you have ever heard of or used Google Docs, but it's a very wonderful word processing application. Besides the fact that your documents would be available anywhere, it saves all revisions. When you click on a document, you can choose to see all the revisions you've made to it, which would allow you to fix anything you accidentally did.
The interface is very similar to Gmail and allows folders and starred documents. Although not entirely a replacement for MS Office, it does allow for spreadsheets and presentations at this point. The word processing feature allows for formatting, but some of the more complicated formatting isn't available. It is great for a simple paper and especially to keep all copies of drafts. Some professors like to see the changes you've made and if you simply write over everything, it'll hurt.